How the pandemic affected employment by different sectors / industries …
Although we recently looked at the changes the pandemic had on the number of jobs in general and specific sectors, we repeat that examination for some different sectors this month with many that are especially relevant to the staffing and IT staffing sectors. And for comparison, we also look at the changes in the general labor employment as well as focusing on some sectors that have been especially hard hit by the pandemic, but may not necessarily be staffing-centric.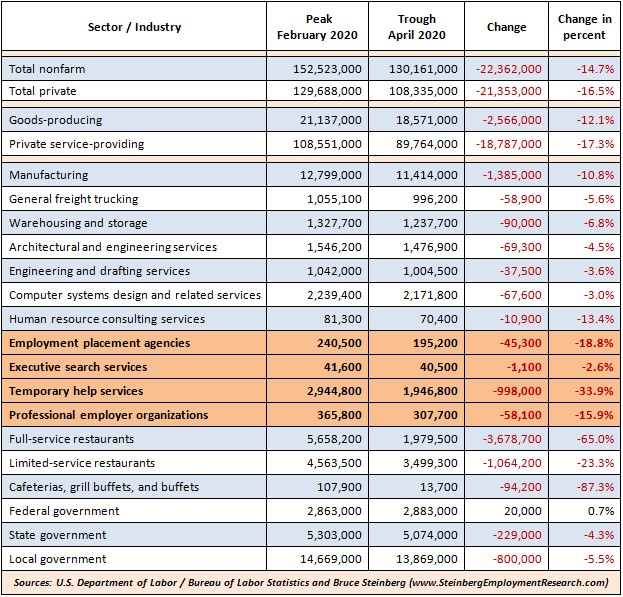 The first table shows the changes made from before the pandemic hit in February 2020 that was the peak for employment in most sectors to when the largest jobs losses occurred in April 2020 that was the low point or trough last year. The second table shows the changes from the peaks and from the troughs to December 2020, the last month of the year.
Specifically, the number of all private-sector jobs dropped 16.5 percent from a peak in February 2020 to the trough in April 2020 (first table) but was still off 6.6 percent by December 2020 (second table) from its peak.  However, all private sector jobs have increased 11.8 percent from the trough in April 2020 at the end of the year in December 2020 (second table).
Before we discuss the performance of some staffing-centric sectors, it's interesting to see what has occurred in some of the restaurant sectors, which has been especially hard hit by the pandemic. Full-service restaurants were down 65.0 percent from peak to trough and were still down 24.3 percent from the year's peak, but recovered 116.3 percent from the year's trough. Regardless that it is a fairly small sector, cafeterias, grill buffets, and buffets — many of which have closed their doors because of the pandemic — were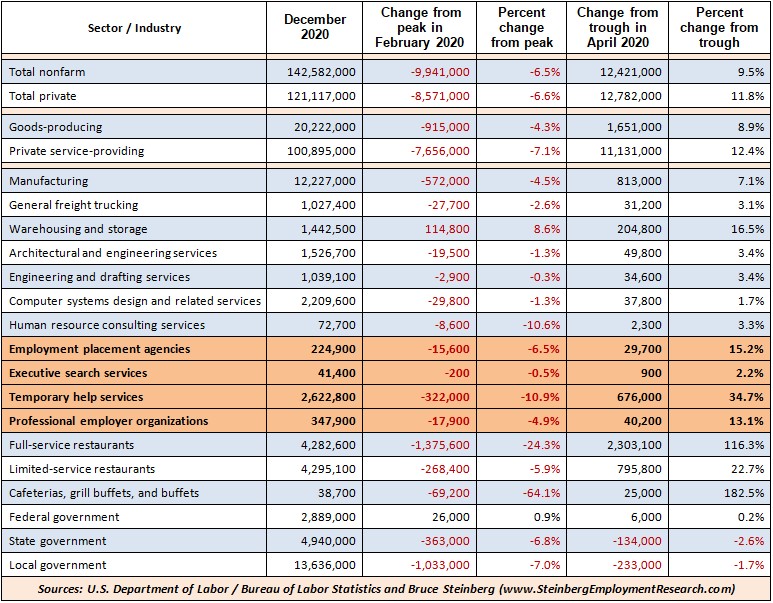 down 87.3 percent from peak to trough and were still down 64.1 percent from the year's peak at the end of the year, but recovered 182.3 percent from the year's trough.
Since we have faith in our readers are educated enough to be able to read these tables we will limited our verbiage to discussing the general trends and leave out the specific numbers from this point onward.
The private services-providing was hit harder by the pandemic than the goods producing sector, which is essentially all private (unless one considers producing red tape by government entities as "goods producing"). With that said the federal government was one of only a few sectors that did not lose jobs during the pandemic.
Within the staffing industry, executive search barely lost its mojo due to the pandemic. Temporary help services, which we have been reporting about in detail all along, fell off the cliff in early 2020 had made a nice recovery by the end of the year.
And if the percentage changes in temporary help services looks familiar to you, they are. Those numbers sort of mirror the changes in GDP, but along a different timeline. In Q2 2020, GDP dropped 31.4 percent and recovered with growth of 33.4 percent in Q3 2020. This is strictly a coincidence, but interesting nevertheless.
Did you see it?
Two days ago the Federal Reserve Bank published its March edition of its round-up of the local economic and employment situation from each of its12 district banks. It includes many comments about the staffing and IT services situation and how some of those business are dealing with today's challenging business environment. Check it out by clinking here.
---
February 2021 Employment Report
Quick recap
The employment economy continues to recover from December's loss of 306,000 nonfarm jobs.
The unemployment rate improved to 6.2 percent in February from January's 6.3 percent; a year ago in February 2020 it was 3.5 percent.
Although the overall economy grew by 379,000 nonfarm jobs in February, that includes a loss of 86,000 government jobs, many in state and local education. In the previous month of January, there was an increase of 166,000 nonfarm jobs and that included an increase of 76,000 government jobs.
Average hourly wages were up seven cents in February after rising only three cents in January, but were up 30 cents in December. However, the Bureau of Labor Statistics specially points out, "The large employment fluctuations over the past year — especially in industries with lower-paid workers — complicate the analysis of recent trends in average hourly earnings."
And Temporary help services has now added jobs for the tenth consecutive month in February. It has recover more than 820,000 jobs from its pandemic lost of almost 950,000 in April 2020.
Jobs Report
The Bureau of Labor Statistics reports that the economy added 465,000 private-sector jobs in February after increasing by only 90,000 in January, which was initially reported last month as an increase of only 6,000.
The private Goods-producing sector declined by 48,000 in February after contracting by 13,000 in January
However,

 Manufacturing was up 21,000 jobs in February after declining by 14,000 in January.

The Construction sector — no doubt impacted by the big weather affecting a large portion of the country —  shrank by 61,000 jobs in February after an essentially level performance of a 1,000-job gain in January.

And Mining and logging 

removed 8,000 jobs from its payrolls in February after neither adding or subtracting jobs in January as well as December.
The private Service-providing sector added an astonishing  513,000 jobs in February after only increasing by 103,000 in January but that followed a decline of 356,000 jobs in December.
The Retail trade sector was uncharacteristically steady in February with a gain of 41,100 jobs after adding 46,300 in January.

The Wholesale trade sector slowed its roll with a gain of only 3,600 jobs in February after adding 13,900 in January.

But things picked up in Transportation and warehousing continued 

with a gain of 4,400 in February that may not look too impressive, but actually was since it lost 14,100 in January.

Financial activities 

that had been slowing finally hit the debit key and lost 5,000 jobs in February after a nominal gain of 1,000 in January. BTW, this sector does NOT include tax preparation services.

Professional and business services sector jobs continue to increase with a gain of 63,000 jobs in February, but that was off the pace of the 85,000 it added in January as well as the 159,000 it added in December. Computer systems design and related services continue to improve with the addition of 6,200 jobs in February after adding 2,500 in January. Management and technical consulting services took a breather by adding only 3,500 in February after increasing 26,100 (not a typo!) in January. Architectural and engineering services was able to calculate an increase of 1,700 in February after adding 2,200 in January.

The entire private Education and health services sector added 44,000 job in February. Home health care services 

,ay have started on the road to recover in February with a gain of 5,700 jobs after January's loss of 14,800 jobs.

The Leisure and hospitality sector continued its rollercoaster ride with a gain of 355,000 jobs in February after declining by 25,000 in January that followed a plunge of 498,000 in December. 
The total number of Government jobs was down 86,000. The Federal government was down only 3,000 jobs; State government was down 39,000 with a lot of that due to a decline of 32,000 in state government education, and Local government was down 44,000, again with a lot of that due to a decline of 36,600 in local government education.
Temporary Help Services Roundup
Temporary Help Services continued expand at a more moderate pace  in February with an increase of 52,700 that works out to a 1.9 percent sequential increase, but "only" a 5.9 percent year-over-year decline to bring the total number of temporary help services jobs to 2,769,700. As encouraging these trends may appear, the last time it was at this level — it has been above it — was in July 2014.
For a chart of temporary help's growth from January 1991 to February 2021 and comparing its trend to total employment, click here.
(if the charts are unclear, click on it to open in a browser window)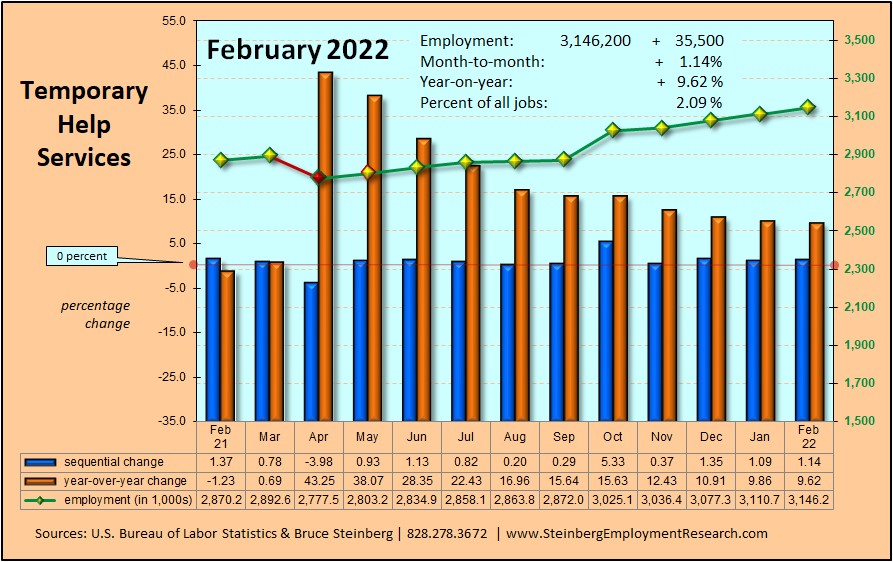 In February 2021, temporary help services market share, which is its portion of all jobs, increased to 1.9362 percent up from 1.9044 the previous month. A year ago in February 2020 it was 1.9307 percent and two years ago in February 2019 it was 1.9737 percent.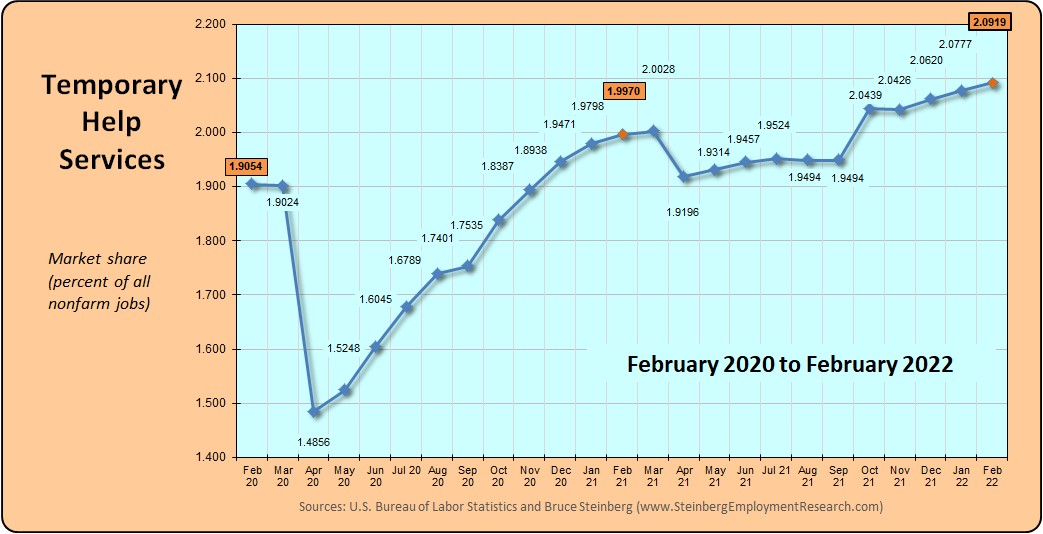 Household Survey
The unemployment rate inched lower in February to 6.2 percent from January's 6.3 percent.
Although the labor force grew by only 50,000, there were 208,000 more employed persons and 158,000 fewer unemployed persons in February. The workforce participation rate was unchanged at 61.4 percent while the employment-population ratio ticked up to 57.6. Those considered as not in the labor force increased by a nominal amount of 18,000.
BTW, we maintain an updated table of many major employment as well as other general economic indicators here or here for the mobile version.