And the results are …
Last week, and several times this week, we surveyed our subscribers asking if and how the ending of the enhanced unemployment benefits impacted their staffing operations. Although we did not get the number of responses we hoped for, there were enough to report them back to you. And the comments we received were very enlightening.
Geographically, there was a broad cross section across the country with some responses reporting back at a local market, state, regional, or national levels, which made up just less than a quarter of the responses. And more than 90 percent of the respondents knew when the enhanced benefits ended, it is a bit disturbing that the remaining 9 percent did not considering the business they are in.
As for the market segments of the responses, for which multiple responses were accepted, it was pretty much all over the board, with almost 75 percent in clerical / office, 50 percent in warehousing, about 45 percent in light industrial and the same amount in customer service including call center — all the rest of the categories were under 30 percent. Because of the small number of responses per market area, it was not possible to draw even bad or inaccurate conclusions regarding how ending enhanced U.I. benefits impacted any market or staffing service segment.
Almost two-thirds did not see an increase in applicants or inquires about available jobs, but 14 percent did and there were three write-in votes: one for "Yes, but it was only temporary," one for "Yes, but more of a trickle than a wave," and one for "We saw more activity a few weeks before the benefits ended and ongoing."
When queried about what type of arrangements that new applicants or inquiries were looking for, it was confirmed almost two-thirds percent of the respondents did not see an appreciable increase in applicant or inquiries. However, a solid third were interested in direct hire opportunities, followed by temporary-to-hire at under 15 percent, and about 10 percent looking for temporary jobs only. There was a write in for "Remote" and another "Saw an increase, but not sure tied to unemployment. They didn't care, they just wanted a job."
Although nearly 60 percent did not see an improvement in their fill rate after the enhanced unemployment benefits ended, almost 30 percent did and a bit less than 15 percent did not.
CONCLUSION: This survey is far from being a true reflection of what did and continues to occur regarding this subject, but ending enhanced unemployment benefits appears to have had a somewhat positive affect on some staffing businesses, albeit likely minor and highly dependent upon geography and sector serviced.
However, as previously stated, the comments section of the survey — as well as comments received from those not directly involved in providing staffing services but auxiliary services to the sector such as consultants — were quite illuminating. Here is some of the more insightful feedback:
1) "… the combo of govt funding and covid caused a protracted length of time in which folks found supplementary ways to create an income. This, along with savings folks have accrued, will keep people off the 'official' count till Jan of 2022."  In other words, people found alternative means of earning money.
2) "The sustain high unemployment is more likely to be accredited to a skills gap, i.e. the jobs opening up first are a bad match for those still unemployed because they either:
A) lack the skills required,
B) trained for a more highly skilled occupation and are, wisely, continuing to look for jobs in their field, or
C) outside the regions where the jobs are appearing first."
3)  Lack of child care due to lack of availability — even in good times, day care's economic viability can be frail at best. Anecdotally, we have hear that "… many childcare facilities failed to survive the pandemic. And with parents laid off or working from home, these facilities lost significant revenues. In addition, until the vaccines are approved for those under five many parents are refusing to send their kids completely unprotected. It's not the facilities they don't trust; it's the good sense of other parents."
4) Although there certainly are people "abusing the system" and may be "addicted to 'eating from the government trough'." and therefore find it easier to do that than get back to work. But it should be pointed out that "gaming the system" exists at all strata of society but in different and perhaps more sophisticated ways and is bipartisan as well.
5) It comes as no great — or even a minor — revelation that staffing services "… have  more job orders than people to fill them." But that same staffing executive goes on to say, "However, companies that pay more do get their positions filled and the turnover is less. It all comes down to pay. Companies that are trying to hang on by paying $12.00 per hour are floundering. The pendulum has swung to the advantage of the employee."
6) "The results are somewhat obscured by the COVID situation and supply chain challenges partially offsetting the sun-setting on the three UE extended and enhanced benefit programs."
It has been suggested that employment also did not recover quickly after the influenza pandemic of 1918-1919 either. We looked into this but could find no acceptable and / or verifiable data. First, the pandemic coincided with the end of World War I; employment and economic data was not very good at the time; and although the recession in 1920-21 did occur, that is best attributed to the actions of the Federal Reserve at the time and not the pandemic.
For those who filled out the survey and provided their contact information requesting the raw data, we will prepare and send that out by early next week. We thank all for participating.
---
September 2021 Employment Report
Quick recap
Although the unemployment rate plunged 0.4 percent to 4.8 percent in September, the total number of nonfarm jobs increased only 194,000 after expanding by 366,000 in August and 1,091,000 in July. We offer an explanation of the September decline in the unemployment rate, which could be interpreted as for the wrong reasons in the Household Survey section, within an environment of relatively weak overall job growth — or was it?.
Average hourly wages were up 19 cents in September after rising 11 cents in August.
After several consecutive months of increases, Temporary Help Services declined ror the second consecutive month in September and at a faster rate.
Jobs Report
Private sector employers added 317,000 jobs in September and that was consistent but slightly lower than the August increase of 332,000; a year ago, this metric was up 932,000 in September 2020.
The private Goods-producing sector added 52,000 jobs in September after adding 37,000 in August and was up 74,000 in July.
Manufacturing continued to improve, but at a slower pace, with an increase of 26,000 in September compared to the 31,000 it added in August and 57,000 in July..

The Construction sector growth resumed after a no-growth August by adding 22,000 in September; it increased 12,000 in July.

Mining and logging was fairly steady with the addition of 4,000 jobs in September after adding 6,000 in August and 5,000 in July.
The Service-providing sector added 265,000 jobs in September, which was less than the 295,000 it increased by in August and much less than the 742,000 gain in July .
The Retail trade sector added to its inventory of jobs with an increase of 56,100 in September after removing 3,800 jobs from its shelves in August and writing off 6,100 in July.

The Wholesale trade sector increased 16,900 in September after leaving 3,200 jobs on the loading dock (decline) in August.

Transportation and warehousing continued to hold at a steady but slowing pace with the addition of 47,300 jobs in September after adding 54,500 in August.

Financial activities seemed to lose some interest in hiring with the addition of only 2,000 in September after increasing by 11,000 in August.

The Professional and business services sector added 60,000 jobs in September after adding 85,000 in August. Computer systems design and related services calculated 8,800 more jobs in September after adding 9,600 in August. Management and technical consulting services added 15,200 in September that followed an increase of 8,800 in August. Architectural and engineering services did likewise with a gain of 15,100 jobs in September, which followed a 17,100 increase in August.

The entire private Education and health services sector was down 7,000 jobs in September after adding 51,000 in August. Home health care services was up 8,200 in September after declining by 4,900 in August.

The entire Leisure and hospitality sector was up 74,000 in September after adding 38,000 in August.
The total number of Government jobs declined by 123,000. The Federal government was flat in September. State government declined by a total of 22,000 with most, but not all, of that decline in state education while local government declined a total of 101,000 jobs despite adding 42,500 non-education jobs.
Temporary Help Services Roundup
Temporary Help Services did not have a good month with a decline of 5,200 jobs in September after losing 3,700 in August. This brings the September number of temporary help services jobs to 2,688,000, which was a 0.2 percent sequential decline but still up a respectable 12.1 percent from September 2020.
For a chart of THS jobs compared to all nonfarm jobs, click here.
(if the charts are unclear, click on it to open in a browser window)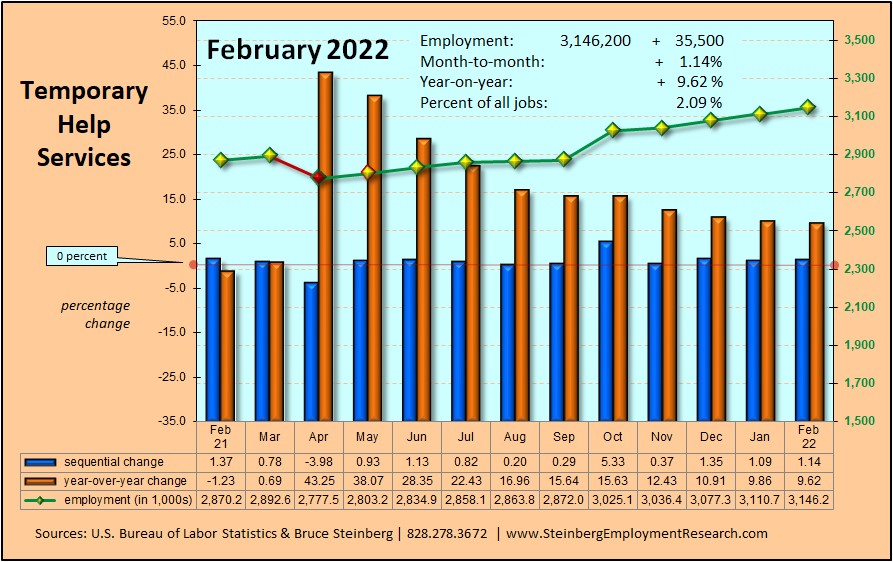 In September 2021, temporary help services market share, which is its portion of all jobs, was 1.8217 percent down from 1.8276 the previous month. A year ago in September 2020 it was 1.6906 percent but two years ago in September 2019 it was 1.9510 percent.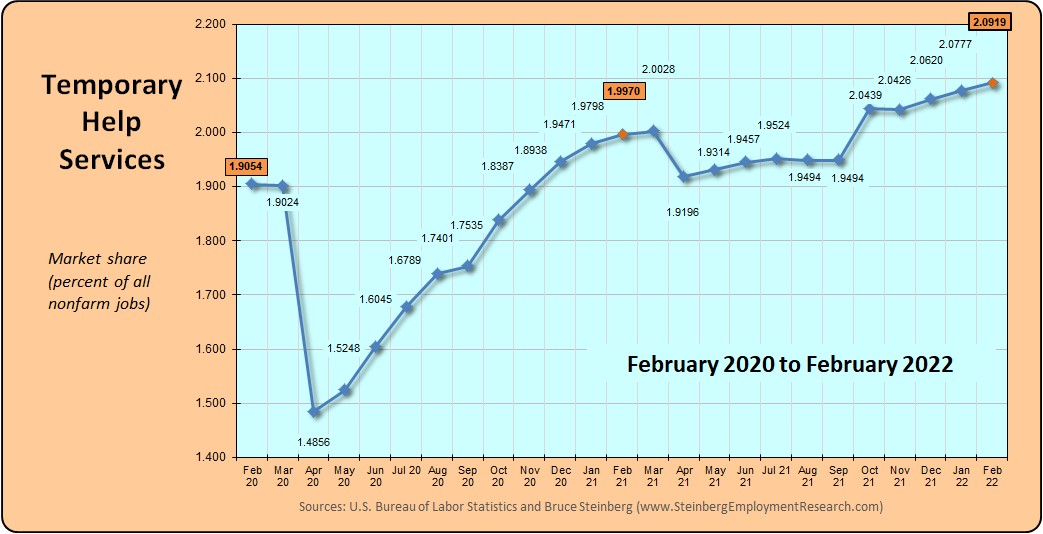 Household Survey
The unemployment rate plunged 0.4 percent to 4.8 percent in September from August's 5.2 percent 2021, but not necessarily for the best reasons.
The labor force contracted by183,000 while there were 526,000 more employed persons, and 710,000 fewer unemployed persons. The workforce participation rate declined 0.1 to 61.6 percent but the employment-population ratio moved up 0.2 to 58.7. Those considered as not in the labor force increased by 338,000. So, despite a significant fewer number of unemployed people and more employed people, because the entire labor force got smaller, the unemployment rate declined and by relatively large amount.
BTW, we maintain an updated table of many major employment as well as other general economic indicators here or here for the mobile version.