The recovery — by gender …
Last month when the unemployment rate ticked up in April financial experts said it was because unemployment compensation was keeping potential workers home because they could do better by not working. 
This comment was reinforced by many of our staffing executive readers lamenting that they just cannot get people to take assignments.
But things are rarely a single monolith and another contributing reason for the rise in the April unemployment rate. The Federal Reserve Board heard from many employers regarding what's keeping  people out of the labor force. One comment of several in its latest Beige Book that was published earlier this week, "… of factors limiting labor supply, including health safety concerns, childcare challenges, cutbacks in public transportation schedules, job search fatigue, and financial support from the government."
While we examined unemployment by gender back in November when reporting the October 2020 employment situation, we thought it would be insightful to test this statement … were women staying out of the workforce more than men for whatever reason or reasons? Child care appears to be a major concern and that often falls upon women.
In reality, the unemployment rate for all women 20 years and older ticked down to 5.6 percent while the unemployment rate for the same age group of men rose from 5.8 percent in March to 6.1 percent in April.
And again, trends are not monoliths. For women in the younger age categories — 20 to 24 and 25 to 34 — the unemployment rate declined, ticked up for the 35 to 44 year olds, was unchanged for the 45 to 54 group, and rose for the 55 and older.
But for men, it rose significantly from March to April from 10.9 percent to 11.5 percent, was unchanged for the 25 to 34 group, declined for the 35 to 44 year olds, and rose for those 45 and older.
However, the labor force participation rate for this same group of those 20 and older did shift. For women, it declined from 57.4 in March to 57.2 in April and a decline of  83,000 employed women. For men, the labor work participation rate rose from 69.5 in March to 69.8 in April and an increase of 154,000 men.
Although the unemployment rate for women 20 years old and older declined in April from the previous month, so did the actual number of employed women. Conversely, the unemployment rate for men in that same age group increased, so did the actual number of employed men. Before your head explodes trying to figure out why the overall unemployment rate increased, let's just say that there is a major labor storage thought many sectors of the employment economy.
That translates into major pain for the staffing sector, or in the words of at least one staffing executive, "… we have a zillion open job orders and no one to fill them." But is the demand as over-the-top as it may appear via staffing services' unfilled orders? Again referring to a comment — which was echoed by shortage in the supply chain for goods in this week's Beige Book, ".. perceived demand may be overstated by clients placing orders with more staffing firms than is typical."
---
May 2021 Employment Report
Quick recap
The unemployment rate declined in May to 5.8 percent after April's unexpected marginal increase to 6.1 percent; a year ago, which was a month after the full effect of the pandemic hit the employment economy, it was 13.0 percent.
Average hourly wages were up 15 cents in May after rising 21 cent in April.. The Bureau of Labor Statistics essentially only slightly updated its statement from the April employment situation report for the May report, "The data for the last 2 months suggest that the rising demand for labor associated with the recovery from the pandemic may have put upward pressure on wages."
And Temporary Help Services was able to reverse two consecutive months of declines in March and April with an increase, albeit quite moderate, in May.
Jobs Report
After an unexpected weak performance in April with private-sector job growth of only 219,000, the economy added 492,000 private-sector jobs in May, which was still below most consensus expectations, but not a devastating difference. A year ago, employers added 3,345,000 jobs in May 2020 after losing almost 20,000,000 in April 2020.
The private Goods-producing sector reversed direction and added 3,000 jobs in May after losing 36,000 in April.
Manufacturing apparently got back some of its mojo with a gain of 23,000 in May after dropping 32,000 jobs in April.

The Construction sector dropped by 20,000 jobs in May, perhaps due to the shortage and  skyrocketing increases in the price of building supplies that put a damper on projects after declining by 5,000 in April.

Mining and logging was flat in May after adding only 1,000 in April.
The music was playing louder in the private Service-providing sector that continued to add jobs to the tune of 489,000 in May, which was a significant volume increase from the 255,000 it added in April. A year ago the chorus chimed back in with an increase of 2,654,000 in May 2020 after the singing stopped the month before April 2020.
The Retail trade sector losses slowed with a decline of 5,800 in May after removing 30,200 from its inventory of jobs in April.

The Wholesale trade sector picked up the pace with the addition of 19,900 jobs in May, which was an improvement from the 6,200 it added in April.

Transportation and warehousing may have gotten whip lashed by shifting back into a forward gear with an increase of 22,900 jobs in May after declining by 52,700 jobs in April.

Financial activities was not able to maintain its momentum with a decline of 1,000 jobs in May after adding 16,000 in April.

The Professional and business services sector was also able to change direction and move forward with an increase of 35,000 jobs in May after declining by 81,000 in April. Computer systems design and related services was essentially flat with a marginal decrease of only 600 jobs in May after declining by 1,400 in April, which was initially reported last month as an increase. Management and technical consulting services was flat in May after adding 9,500 in April. Job growth at Architectural and engineering services slowed considerably in May with the addition of 1,700 after adding 11,500 in April.

The entire private Education and health services sector adding 87,000 jobs in May, with about 53 percent of that growth in health care and social assistance. Home health care services added 2,200 jobs in May after disposing of 2,900 jobs in April.

The Leisure and hospitality sector continued to spring into the summer season with the addition of 292,000 jobs in May after adding 328,000 in April.
The total number of Government jobs was up 67,000 in May. The Federal government was down a total of 11,000 jobs due to — and then some — a 14,700 job reduction at USPS. State government was up a total of 45,000 and Local government was up 33,000 both due to increases in public education.
Temporary Help Services Roundup
Temporary Help Services changed its narrative with an increase — albeit fairly minor — of 4,400 to bring the total number of jobs to 2,650,700 jobs in May, which works out to a meager 0.2 percent increase. This was certainly an improvement from the combined two-month declined of 121,600 for March and April. There is no doubt that the sector is suffering from a shortage of available workers since businesses are clamoring for its services. But it's still encouraging to see that the sector is up almost 33 percent with 654,800 more jobs year-on-year.
(if the charts are unclear, click on it to open in a browser window)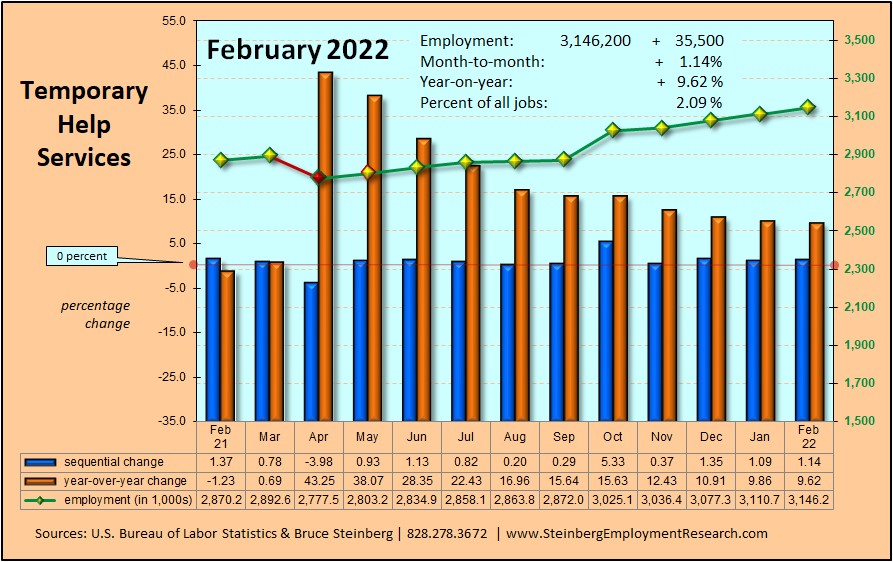 In May 2021, temporary help services market share, which is its portion of all jobs, dipped to 1.8294 percent down from 1.8334 the previous month simply because overall job growth was stronger. A year ago in May 2020 it was 1.5007 percent and two years ago in May 2019 it was 1.9589 percent.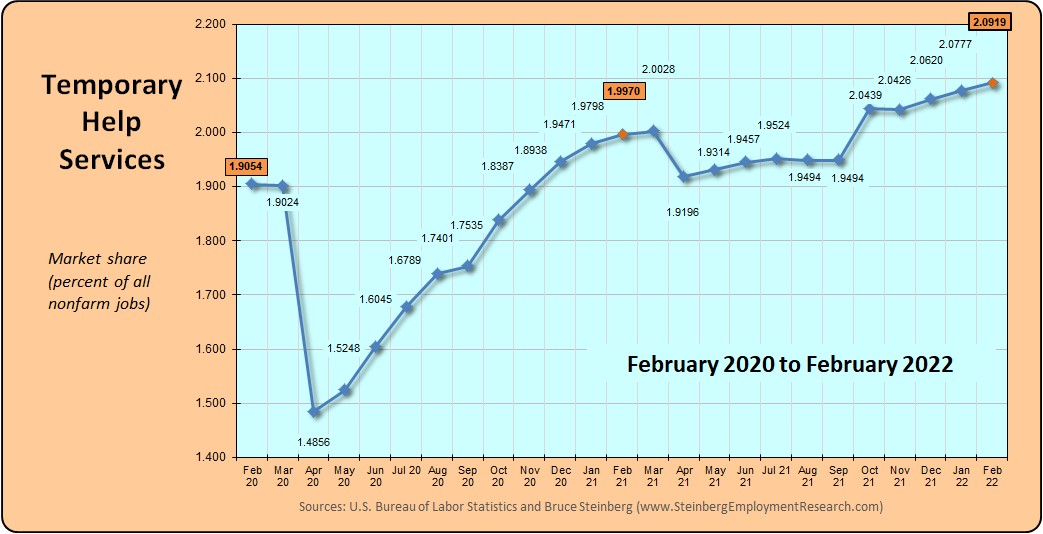 Household Survey
The unemployment rate declined to 5.8 percent in May from April's 6.1 percent, which was incrementally higher than March's 6.0 percent.
The labor force contracted by 53,000 but there were 444,000 more employed persons 496,000 fewer unemployed persons. However, the workforce participation rate dipped 0.1 percentage points to 61.6 percent while the employment-population ratio ticked up 0.1 percentage point to 58.0. Those considered as not in the labor force increased by 160,000. In April, more people returned to the workforce and to jobs, but since not all of them could secure a job immediately, the unemployment rate bumped up. But in May, many found jobs so they were no longer considered as unemployed so the unemployment rate dropped. However, the overall labor force slightly shrank and more people are no longer considered in the labor force.
BTW, we maintain an updated table of many major employment as well as other general economic indicators here or here for the mobile version.