Are you in the right markets?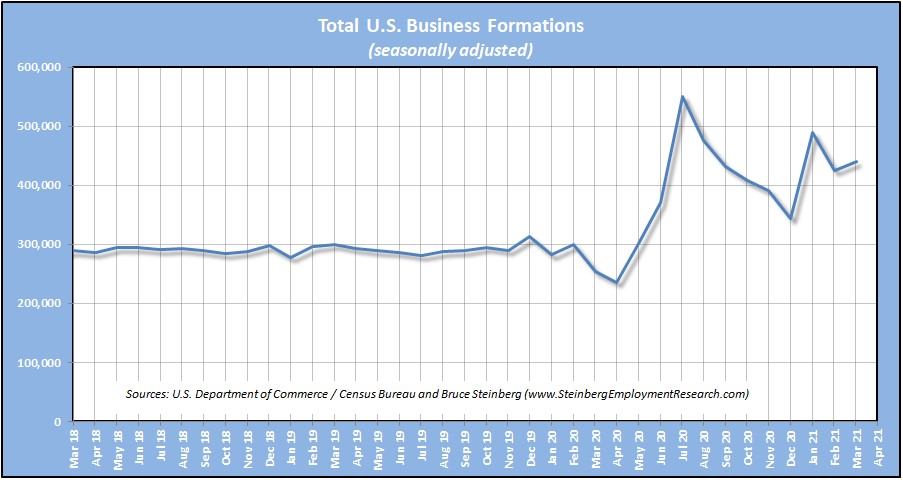 Last month we examined how the trends with new business formations could provide some strategic intel (it may not be an acceptable Scrabble word but this is business, not a word game) for staffing companies to target their marketing efforts by sector. This month we examine the same information, but at the geographical level.
As the data clearly show, clearly new businesses are being formed at a higher rate today than pre-pandemic. Specifically, from March 2019 to March 2020 — we will call this period "pre-pandemic" — there was an average of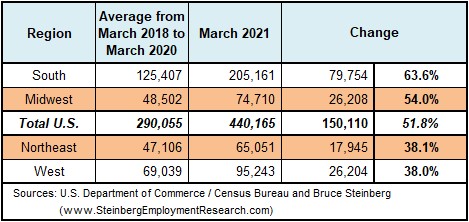 about 290,100 new businesses forming every month in the country. But in March 2021, almost 440,200 new business were formed for an increase of almost 52 percent from the pre-pandemic period.
But some regions of the country did better in terms of growth rates. The Midwest outperformed the country, albeit only slightly, with a growth rate of 54 percent in March 2021 from the two-year pre-pandemic average with about 26,210 more business formations in March 2021.
The South seems to be the hot bed of new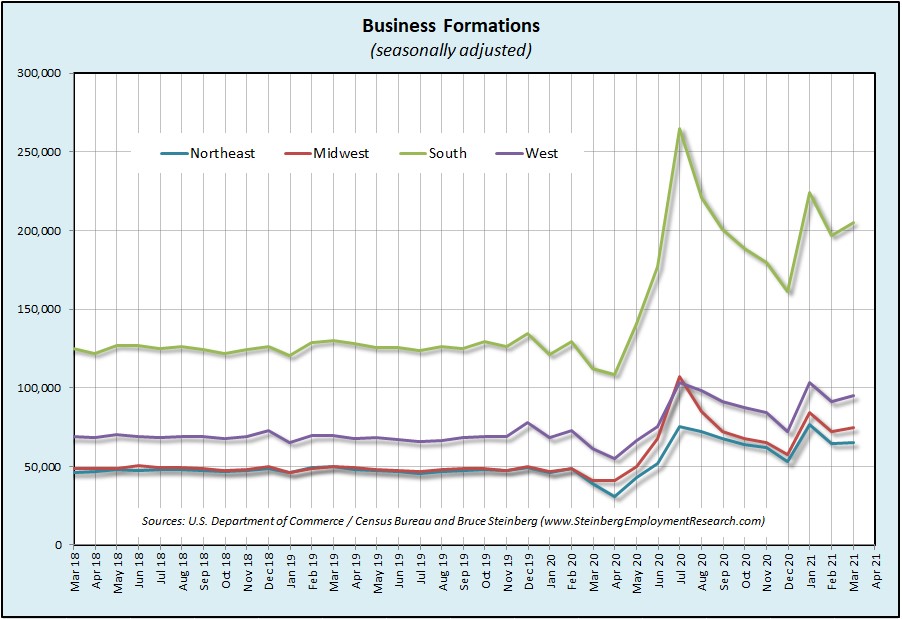 business formations both in terms of percent growth and absolute numbers. The number of new business formations jumped nearly 64 percent with  about 79,750 new businesses formed in March 2021 from the pre-pandemic period.
Coincidentally the two remaining regions of the country experienced essentially the same 38 percent increase for new business formations with the economically mature Northeast region only seeing about 17,940 new businesses forming in March 2021 from the pre-pandemic period  while the West had 26,200 more.
---
April 2021 Employment Report
Quick recap
Before we start in with the recap, keep in mind that the pandemic fully hit the employment situation a year ago in April 2020 so year-over-year comparisons are undoubtedly quite large but interesting nevertheless to see how far the employment economy has come in a year.
The unemployment rate increased, however slightly, to 6.1 percent in April from March's 6.0 percent; however a year ago it was 14.8 percent.
Average hourly wages were up an alarming 21 cents — if the alarm bell is attached to an inflation indicator. According to the Bureau of Labor Statistics the large increase, "… suggest(s) that the rising demand for labor associated with the recovery from the pandemic may have put upward pressure on wages."
And Temporary Help Services declined for the second consecutive month in April.
Jobs Report
The Bureau of Labor Statistics reports that the economy added 218,000 private-sector jobs in April after increasing by 708,000 in March. Not to bring up bad memories but to show how far the country has come, a year ago in April 2020 the economy lost 19,731,000 jobs.
The private Goods-producing sector contracted by 16,000 jobs in April after adding 166,000 in March. A year ago in that dark April 2020, it lost 2,378,000.
Manufacturing, which appears to be suffering from supply issues, was down 18,000 in April, after increasing 54,000 in March.

The Construction sector, which was on a massive build in March with the addition of 97,000 jobs, was flat in April, perhaps because the sector cannot find workers to hire.

However

 Mining and logging was able to 

fill 2,000 more jobs in April even after increasing 15,000 in March.
The private Service-providing sector continued to add jobs to the tune of 234,000 in April although the song was not quite at the volume it had in March when it added 542,000 jobs. A year ago it was really singing the blues with a loss of 17,353,000 jobs in April 2020.
The Retail trade sector contracted by 15,300 jobs in April after adding 32,800 in March; a year ago in April 2020 it reduced its job inventory by 2,248,300.

The Wholesale trade sector slowed its roll a bit with the addition of only 7,800 jobs in April compared to the 20,600 it added in March; a year ago in April 2020 it declined by  390,600 jobs.

Transportation and warehousing trended similarly with a loss of 74,100 in April after adding 44,800 in March; a year ago in April 2020 it left 573,600 jobs outside the building on the loading docks (declined).

Financial activities 

was up 19,000 in April and added the same in March; a year ago in April 2020 it debited 254,000 jobs.

The Professional and business services sector decided it did enough hiring and declined by 79,000 jobs after adding 67,000 in March; a year ago in April 2020 it was down 2,236,000 jobs. Computer systems design and related services continue to improve with the addition of 6,200 jobs in April that was only slightly less than the 6,500 it added in March. Management and technical consulting services added the same amount of jobs in April with an increase of 6,200 after adding 8,500 in March. Architectural and engineering services 

did much better with the addition of 11,600 jobs in April after adding 7,700 in March.

The entire private Education and health services sector was essentially unchanged with a decline of only 1,000 jobs in April. Home health care services took a step backwards with a decline of 6,700 jobs in April after supplementing its job count by 5,100 in March.

The Leisure and hospitality sector continued to bulk up with 331,000 more jobs in April than in March when it added 206,000; a year ago in April 2020 it fell by 7,442,000 jobs.
The total number of Government jobs was up 48,000 in April. The Federal government was up 9,000 jobs. State government was up a total of 7,000 and Local government was up 32,000 mainly due to increases in education in both.
Temporary Help Services Roundup
Temporary Help Services with a total of 2,648,600 jobs in April continued to arc downward with a decline of 111,400 in April and that calculates out as 4.0 percent decline from March. We repeat our question from last month from last month — could temporary help services be suffering from a similar malaise as the housing market and other sectors, which is suffering from a shortage of inventory and that includes available of workers?  But it's still encouraging to see that the sector is up more than 36 percent with 701,800 more jobs than in April 2020.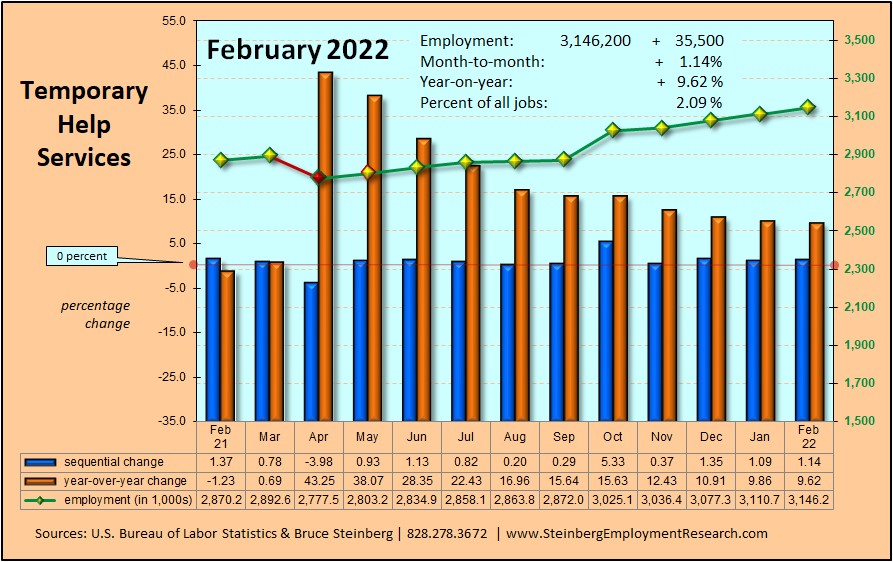 (if the charts are unclear, click on it to open in a browser window)
In April 2021, temporary help services market share, which is its portion of all jobs, dipped to 1.8354 percent down from 1.9161 the previous month. A year ago in April 2020 it was at a nadir of 1.4957 percent and two years ago in April 2019 it was 1.9616 percent.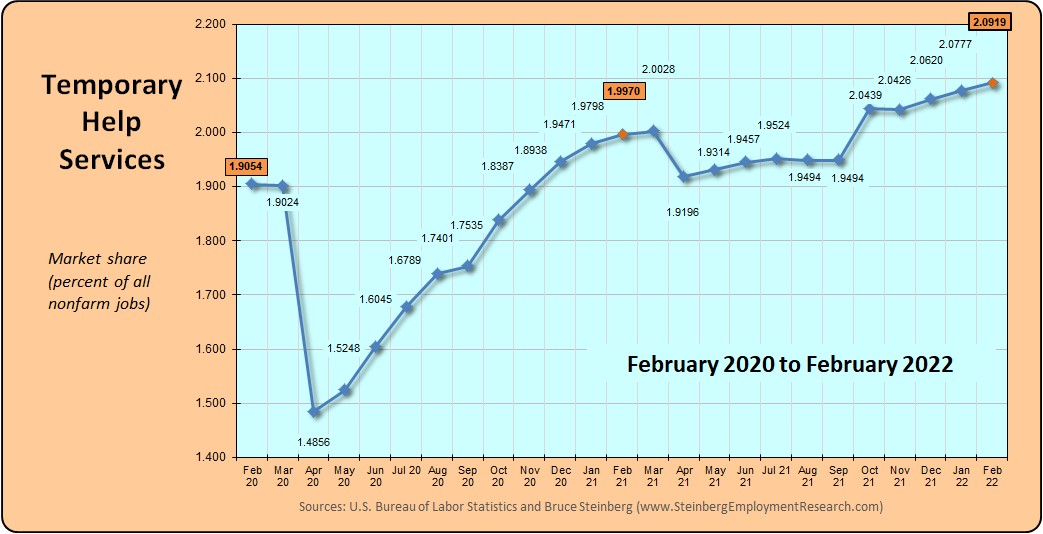 Household Survey
The unemployment rate bumped up to 6.1 percent in April after a 6.0 percent reading in March.
The labor force grew by 430,000 in April and there were 328,000 more employed persons but 102,000 more unemployed persons. The workforce participation rate rose 0.2 percentage points to 61.7 percent while the employment-population ratio ticked up 0.1 percentage point to 57.9. Those considered as not in the labor force declined by 330,000. Simply stated, more people are returning to the workforce and to jobs, but since not all of them can secure a job immediately, the unemployment rate bumped up..
BTW, we maintain an updated table of many major employment as well as other general economic indicators here or here for the mobile version.