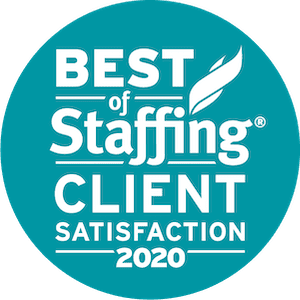 WINS CLEARLYRATED'S 2020 BEST OF STAFFING CLIENT AND TALENT AWARDS FOR SERVICE EXCELLENCE
Earned by less than two percent of all staffing companies in the U.S. and Canada. 
Washington, D.C. – February 5th, 2020 – Mee Derby, the nation's premier search firm specializing in Staffing, Professional Services and Workforce Solutions, announced today that they have won Best of Staffing Client and Talent Awards for providing superior service to their clients and candidates. Presented in partnership with CareerBuilder, Indeed and Glassdoor, ClearlyRated's ClearlyRated's Best of Staffing® Award winners have proven to be industry leaders in service quality based entirely on ratings provided by their clients and candidates.
On average, clients of winning agencies are 3.3 times more likely to be completely satisfied and candidates who have been placed by winning agencies are 1.7 times more likely to be completely satisfied with the services provided compared to those working with non-winning agencies. In 2019, Mee Derby received a Net Promoter® Score of 75% from their clients, substantially outpreforming the industry's average of -2% this year. Our Net Promoter® Score from candidates in 2019 is 93.3%, which is nearly 4 times the industry's average of 24% https://www.clearlyrated.com/staffing/md-usa/cabin-john-md/mee-derby-cabin-john-md..
"Mee Derby strives to provide a quality customer experience with everyone we engage. The Best of Staffing Client and Talent Awards is validation that the Mee Derby team consistently exceeds that expectation. It is an honor to work with such a collaborative group of people and to be celebrating a decade of award winning service to the staffing industry" said Robin Mee, Mee Derby Founder and President.
"Now more than ever, it is important for staffing firms to deliver consistently remarkable experiences to the clients and talent they work with," said ClearlyRated's CEO Eric Gregg. "This year's Best of Staffing winners have shown their commitment to exceptional service, committing to not only measuring satisfaction, but taking action on the feedback. I couldn't be more proud to showcase these industry leaders alongside feedback from their actual clients and candidates on ClearlyRated.com and applaud them for their commitment to making improvements at their respective firms!"
Here is what people are saying about Mee Derby:
Jim Hoen, Jobcase
The entire team at Mee Derby always act in the best interest of both parties. They do an excellent job of communicating the opportunities to the candidates in a manner that provides enough insight to make conversations/interviews extremely relevant. From the hiring side of the equation their industry knowledge is second to none and allows them to find the right fit for clients from a technical and cultural perspective.
Steve Heeg, GrapeTree Medical Staffing
Great partnership, outstanding match, pays attention to detail and helps bring candidates forward that really match the company's values/ethics and overall skill set that we were looking for.
Mark Weidner, AMN Healthcare
My experience with Mee Derby has been great. As a staffing and recruiting professional, my expectations are very high when working with recruiting firms. I found Mee Derby to exhibit an incredible level of customer service and professionalism. Sue Jagan is an amazing recruiter, I would and have recommended Sue and Mee Derby to anyone in my network.
Jay Reid, Peoplelink Staffing Solutions
Kim and Robin are amazing… they made my transition after 23 years a breeze! Very thoughtful and supportive, coached me on what to expect and plan for. While being very patient with me as I was slow to move forward. They're the Best!
About ClearlyRated
Rooted in satisfaction research for professional service firms, ClearlyRated utilizes a Net Promoter Score survey program to help professional service firms measure their service experience, build online reputation, and differentiate on service quality. Learn more at https://www.clearlyrated.com/solutions/.
About Best of Staffing
ClearlyRated's Best of Staffing® Award is the only award in the U.S. and Canada that recognizes staffing agencies that have proven superior service quality based entirely on ratings provided by their clients and job candidates. Award winners are showcased by city and area of expertise on ClearlyRated.com – an online business directory that helps buyers of professional services find service leaders and vet prospective firms – based exclusively on validated client and talent ratings and testimonials.
About Mee Derby
Mee Derby is the nation's premier search firm specializing in Staffing, Professional Services and Workforce Solutions. Founded in 1988, Mee Derby has achieved an outstanding reputation for exceptional results and superior service. With an established reputation for bringing together top talent with the best jobs, Mee Derby has helped over 2,500 staffing professionals elevate in their careers. www.meederby.com 
Contact
Jack Jobst, Communications Director
p. (301) 704-3882
jack@meederby.com